Solomon Elected to IPLOCA Board of Directors
We are pleased to announce that Vacuworx President Bill Solomon has been elected to the 2016-2017 IPLOCA Board of Directors representing Associate Members. 
IPLOCA (International Pipe Line & Offshore Contractors Association) is governed by a volunteer board of directors made up of 25 owners and senior executives of major pipeline contractors and service companies. Directors representing the Regular Members divided into geographic regions and directors representing Associate Members are elected by the members of the association and generally serve a term of two years.  Elections took place at the Annual Convention in Paris in September.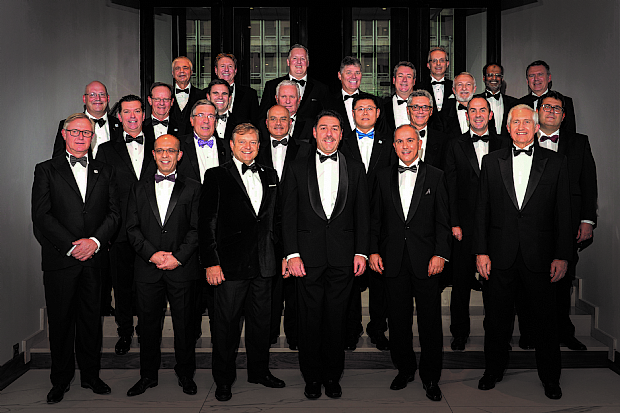 (Left to right) 
Front row: Jan Koop, Atul Punj, Andrew Ball, Rubén Kuri, Mesut Sahin, Juan Arzuaga
Second row: Doug Fabick, Jean Claude Van de Wiele, Georges Hage, Ma Chunqing, Oliviero Corvi, Bruno Guy de Chamisso, Alexander Kolikov
Third row: Adam Wynne Hughes, Brian Laing, Scot Fluharty, Bruno Maerten, John Tikkanen, Mark Barrows, Iosif Panchak, Steve Sumner
Fourth row: Albert Zakhem, Bill Partington, Bill Solomon, Fatih Can, Aqeel Madhi
OFFICERS
Rubén Kuri (ARENDAL)
President; Director, Latin America
Andrew Ball (J. Murphy & Sons)
1st Vice President; Director, Europe Northwest
Mesut Sahin (Mannesmann Engineering & Construction)*
2nd Vice President; Director, Europe Central
Jan Koop (Bohlen & Doyen)
Treasurer; Director, Europe Central
Atul Punj (Punj Lloyd)
Immediate Past President
 
DIRECTORS
Oliviero Corvi (Bonatti), Director, Europe Mediterranean
Bruno Guy de Chamisso (Spiecapag), Director, Europe Mediterranean
Adam Wynne Hughes (Pipeline Induction Heat), Director, Europe Northwest
Fatih Can (Tekfen), Director, Europe Eastern
Alexander Kolikov (MRTS), Director, Europe Eastern
Bill Partington (Ledcor), Director, America North 
Scot Fluharty (Mears Group), Director, America North; Chairman of the New Technologies Committee
Jean Claude Van de Wiele (Spiecapag)*, Director, Latin America 
Albert Zakhem (Zakhem International), Director, Middle East & Africa
Aqeel Madhi (NPCC), Director, Middle East & Africa
Mark Barrows (McConnell Dowell), Director, East & Far East
Ma Chunqing (China Petroleum Pipeline), Director, East & Far East
Bill Solomon (Vacuworx), Director, Associate Members
Brian Laing (CRC-Evans), Director, Associate Members
Doug Fabick (PipeLine Machinery International), Director, Associate Members 
 
DIRECTORS-AT-LARGE
Georges Hage (The C.A.T. Group)
Bruno Maerten (Entrepose), Chairman of the HSE Committee
Iosif Panchak (Stroygazmontazh)
Steve Sumner (Lincoln Electric), Chairman of the Scholarship Committee
John Tikkanen (Shawcor), Chairman of the Client Engagement Committee
 
EXECUTIVE SECRETARY
Juan Arzuaga 
*Appointed by the Board of Directors